''''
anti corrosion wear abrasion resistant epoxy compound coatings used in repairing and lining desulfuration pipeline:

Shandong Hengyang environmental protection equipment Co.,Ltd,specializing in the production of various rubber lining pipeline and plastic lining pipes etc.
In May 2017,Based on the using requirements from power plant,the desulfuration pipeline internal should use the lining ceramic material to repair,
Hengyang environmental protection equipment Co.,Ltd chooses BD7056 desulfurization pipes special liner ceramic coating material which produced by
Xiangyang City Hundred Shield Coating Material Co.,Ltd as the repairing material for this working condition.

BD7056 desulfuration pipeline lining ceramic material since 2013,successively in the power plant application as follow and obtain a good using effect,
guangdong yunfu power plant,Luoding power plant,Nanhai second power plant,Shenhua guoneng Yuanyanghu power plant,Datang Linfen power plant
and Zhongtou Daban power plant etc.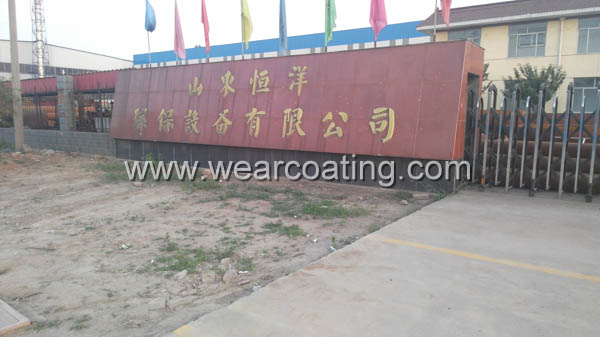 Construction technology:
1.Surface treatment:Do the coarsening treatment for the pending-repair parts,(polishing with angle grinder or sand blasting etc.),then clean it by cleaning agent,
the surface after this treatment should be the one coarse,dry and fresh substrates,should be no greasy dirt and dust.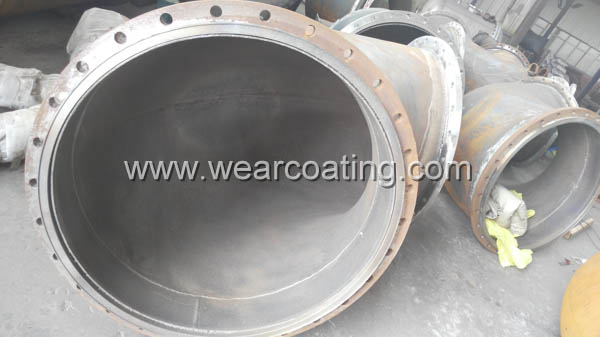 2.Brush coating corrosion resistant prime coat,the preparation of the two parts of anti corrosion prime coat according to the specified weight ratio and
mix them uniformly.Make the mixed materials be brush coating on the construction parts for 2 times according to the right-angled intersection method,
should be no leakage point through inspecting after curing.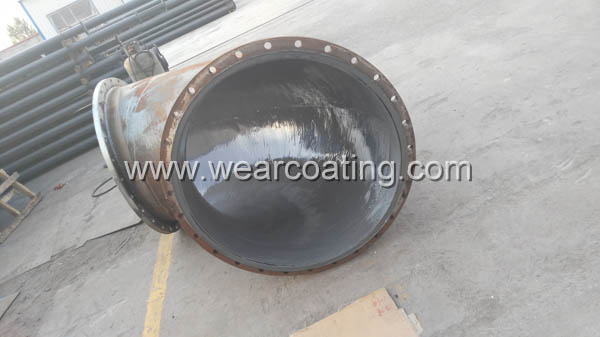 3.Coating:Make the A and B two components of BD7056 desulfuration pipeline liner ceramic material mix uniformly based on the specified mixing weight ratio,
and use it up within 40 minutes,generally it is while construction and the preparation,every time the largest preparation quantity should be not more than 4Kg,
the suitable coating thickness of BD7056 desulfuriation pipes lining ceramic material is 2 to 8mm,should make the mixed materials be coating on the surface
of the substrates layer by layer,the coating should be compacted,make it infiltrate fully with the substrates.Repair the surface to be smooth after the coating
is coated in the suitable size.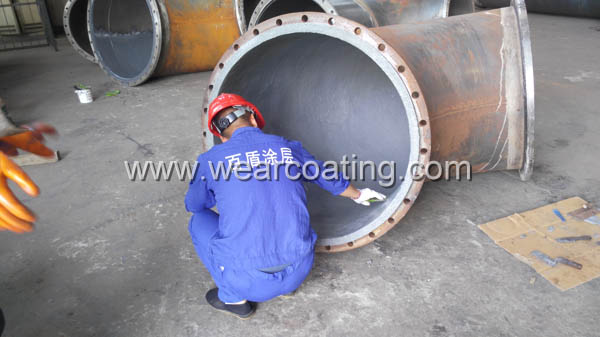 4.Curing:It can be put into using after curing for 24 hours at the temperature of 25 degree,when the temperature is below 15 degree,the coating can't be
curing fully,should heat it up to the temperature of 80 degree and keep this temperature for 2 hours to promote the coating to be curing fully after the
coating initial curing,can use the iodine tungsten lamp to do irradiation heating with 40cm distance from the coating.

The effect picture after repairing: