''''
High temperature anti wear abrasion corrosion resistant epoxy putty compound coating used in repairing and protecting
mining ore dressing plant equipment.


The equipment of dressing plant contacts with ore year in year out,contacts with a mass of mud slurry,water sand and agentia,the abrasion and corrosion
are both very serious,at the same time,various types of equipment are mostly running under the severe condition of low rotate speed,heavy load,
large vibration and strong impact strength,each friction surface is difficult to form liquid lubricant state,so the main parts are abrasion quickly.
Operation of equipment in such harsh conditions,how to do maintenance and overhaul well to prolong its service life is a problem which needs to solve
urgently for this company during annual inspection.

Heilongjiang Tieli City Yichun Luming Mining Co.,Ltd is a large-scale non-ferrous metal mining enterprises which collection of molybdenum ore mining,
mineral processing in the integration,the company has Asia's largest semi-autogenous grinding,domestic biggest ball mill and advanced flotation equipment,
it has domestic and foreign first-class mining equipment 224 sets,mineral processing equipment 2092 sets,among them,the semi-autogenous mill is the first
in Asia and the world's third,ball mill and thickener are domestic advanced,320 cubic flotation machine is the world's largest.Vertical mill machine is also
for the first time of domestic use,the beneficiation process adopts the most advanced current domestic single series SABC technological process,
the application of Luming mining industry large-scale equipment realized the biggest single series domestic processing capacity,Luming molybdenum
resources reserves is about 780000 tons,mine production scale for day processing 50000 tons of ore,year processing 15 million tons of ore,annual output
of 22500 tons of molybdenum concentrate.

Because of the heavy annual task of Luming mining industry,ore dressing equipment operation load is large,lead to the mechanical equipment serious
abrasion during operation,during annual overhaul,various machinery and accessory equipment have different degree of wear abrasion,late February 2017,
during dressing plant overhaul,found that mineral processing machinery and equipment and accessories are serious abrasion,in order to ensure the ore
dressing system normal operation,the company decided to adopt the large ceramic ball filled anti abrasion wear resistant epoxy coating which produced by
Xiangyang City Hundred Shield Coating Material Co.,Ltd to do partial repairing for the system equipment parts wear areas.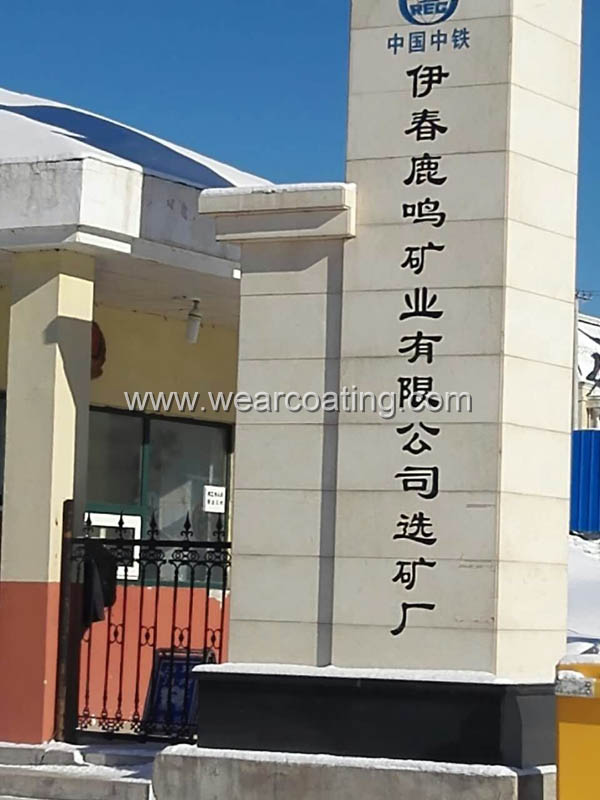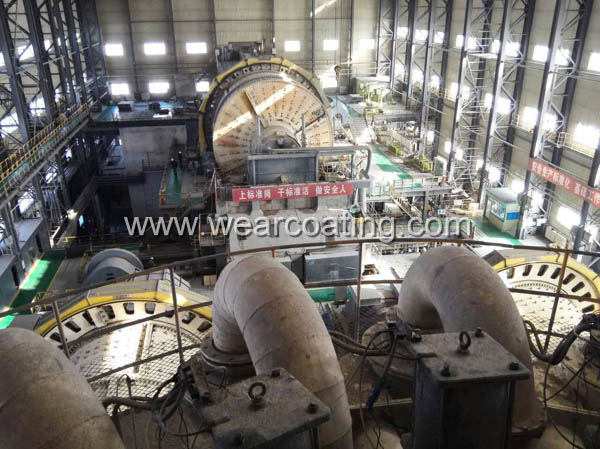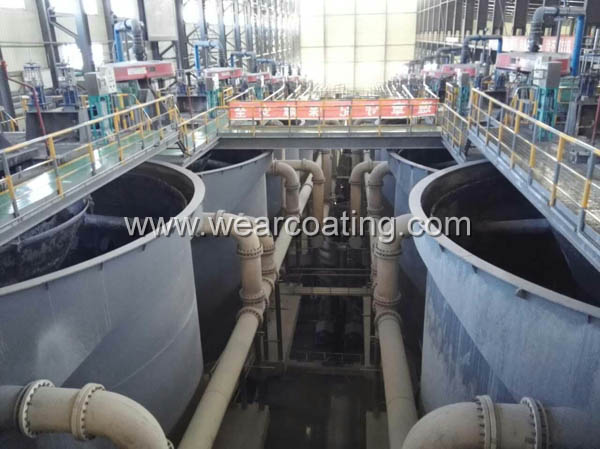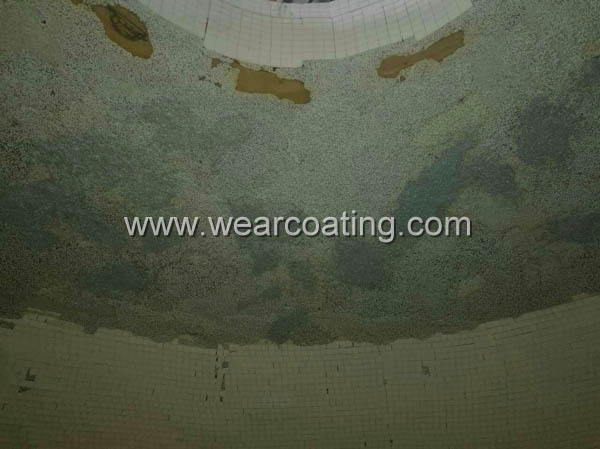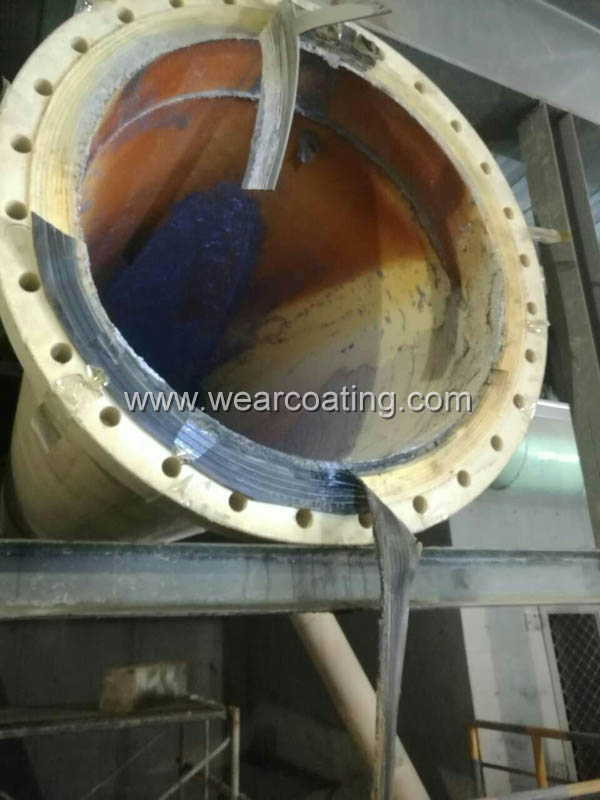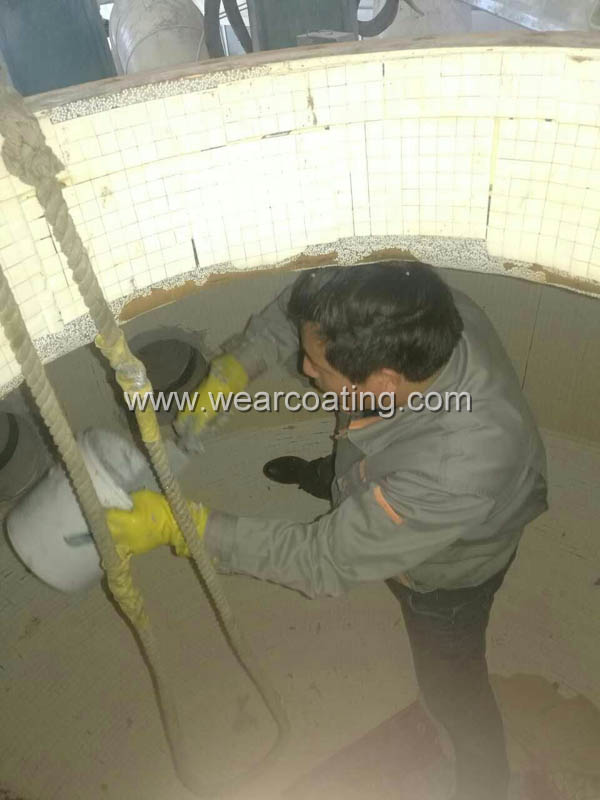 Reparing technological process:
1.Surface treatment: Do the roughening treatment for pending-repair areas, grinding with angle grinder or sand blasting etc,the surface after
coarsening treatment should be cleaned,the surface after this treatment should be the one coarsening,dry and fresh substrates,should be no
greasy dirt and dust.

2.Preparation:According to weight ratio or volume ratio A:B=4:1, make A and B two components mix uniformly,and use it up within 30 minutes.
Generally it's while construction and configuration.Every time the largest preparation quantity shoud be not more than 1.5 Kg, too much coating is
solidified too fast,hasn't been used up until partial coating has solidified and can't be used.According to the actual temperature,configuration can be
appropriately a little more in winter,proper less in summer.If the temperature is too low,can properly heat up the A component to reduce viscosity for
easy to configure.

3.Coating:The suitable coating thickness of BD706 abrasion resistant big particle ceramic epoxy coating is 4 to 15mm,the largest thickness can be 30mm.
Make mixed materials be blade coating on the pending-repair area layer by layer,the first layer should be compacted,make it infiltrate fully with the substrates.
Repair the surface to be smooth after the coating spreading in the suitable size.

4.Curing:It(the mixed coating material) can be put into using after curing for 24 hours at room temperature of 25 deg C,the initial/surface curing time: 1.5
to 2 hours at room temperature 25 deg C,the complete/fully curing time:22-24 hours at room temperature 25 deg C,(If you can heat the mixing coating
materials up to the temperature of 80 to 100 deg C after it initial curing,then keep this temperature for 2 to 3 hours,after that,cool it down to room
temperature 25 deg C slowly,in this way,it can improve 30% comprehensive performance of coating materials,the complete/fully curing time is only 6
to 7 hours based on this method) If the temperature is below 10 deg C,should heat it up or prolong curing time to promote the curing.General construction
in winter,can use iodine tungsten lamp do irradiation heating with 40cm distance from the coating.